The ArtStart program is a one year career development program for Australian creatives transitioning from their studies to a professional career in their chosen industry. ArtStart provides funding for this year of activities. I was fortunate to receive one of these grants. I thought I would share what I gained from it here for others also interested in the grant or even for those starting their visual arts career.
One of the best things about this grant is that they require you to write down your long term and short term goals for your arts practice. My grant application came to serve as a business plan for how I would create a sustainable arts practice. I have written business plans before but never one as detailed as this.
In my ArtStart year I undertook a one year program of career development activities based in Berlin. You specify what activities you will undertake.  For me, these activities included studio rental, creation of a portfolio of work, participation in the Paris Lens Culture FotoFest portfolio review, purchase of a new camera, attendance at exhibitions and fairs. I received valuable mentorship from Joachim Froese as well as business coaching sessions from Mark McGuinness. I enhanced my artistic skills with a screenprinting workshop and I networked with many industry professionals in Berlin, around Europe and in the USA.
 Highlights
Mentorship with Joachim Froese: Joachim Froese is an established photographic artist whose work I have admired for a long time. He was also a lecturer and much cherished advisor through my university studies. As a German/Australian he divides his time between Berlin and Brisbane so this enabled us to meet in person for mentorship sessions. Through our regular meetings he very generously provided me with information on how to prepare and present my work at the portfolio review, advised me on long term career strategies, how to price my work, how to be professional, what realistic expectations I should have and so on. He has been a constant support through the development of my career for which I am very grateful.
Business coaching from Mark McGuinness: Mark McGuinness runs Lateral Action. An online resource for creatives to help them increase their productivity so they can make work that matters. I first got hooked to Lateral Action with the article: Tyler Durden's 8 Rules of Innovation.  Through our coaching sessions he taught me a broad range of personalized skills applicable to the day to day business of my art practice and how to build a strong presence online. He provided me with tailored solutions for time management, how not to freak out about things, how to routinize my work so that I am creating new artwork consistently while also taking care of the business side. Two sessions were focused on branding and identity helping me to better speak about my art and present it.
Lens Culture FotoFest Paris – this three day portfolio review is without doubt the best thing I did as part of my ArtStart year.  Presenting your work to 12+ different reviewers within three days is a fast-track way towards growth as a photo-media artist. The feedback I received at the FotoFest was completely invaluable for helping me understand how I need to add depth to my work and what direction to take it in. I received a lot of valuable advice on how to produce my first artist book, Things You Thought You Needed, a collaboration with writer Tammi-Louise Gleeson which is currently in production. The portfolio review is for mid-career artists and I was one of the youngest ones there.  It was very intense and you have to be able to handle criticism but it's also a great way to meet industry professionals from across the globe.
Screenprinting workshop at Mother Drucker studio – I've previously written about this here.
C/o-Berlin membership, art fairs and exhibitions – it can't be argued that Berlin is one of the cultural capitals of the world which is one of the reasons I moved here. Having access to a broad range of cultural activities and exhibitions is essential for informing your artistic practice. So many artists who have come before have had their 'Berlin years' which proved very formative at the start of their careers. Marian Drew and Nick Cave are just two which come immediately to mind. 
Deciding on my career approach – one thing that slowed me down in the first half of the ArtStart year was my indecision on which path to follow. Do I take the traditional route which the majority of my peers seem to be taking where they wait to be discovered by galleries or do I take the indy route and embrace the internet as a way to communicate with my audience and share my work? My fear was that having my own voice on the internet would deter the interest of 'serious' institutions, galleries and collectors and I happen to love a lot of these places, the dialogues they create and really respect the people behind them. In the end I realized that my fears are so far unfounded and a happy medium is possible and, in fact, probably necessary, as the art industry changes over time and artists need to take more responsibility for their work. Plus, I enjoy blogging and see my online presence as an integral part of my artistic practice – It's a way to make and share more art.
What I gained 
The knowledge, skills and opportunities I gained as a result of the ArtStart grant have been invaluable in furthering my artistic practice and aiding me in my long term goal of creating a sustainable artistic practice. The last 18 months have been the most prolific to date in terms of new work production although that wasn't part of the ArtStart program. I'm looking forward to sharing these new projects soon. I experimented a lot in the last year to refine the direction I wish to take in my work.  From this, I feel my work has really matured as has my attitude to creating it.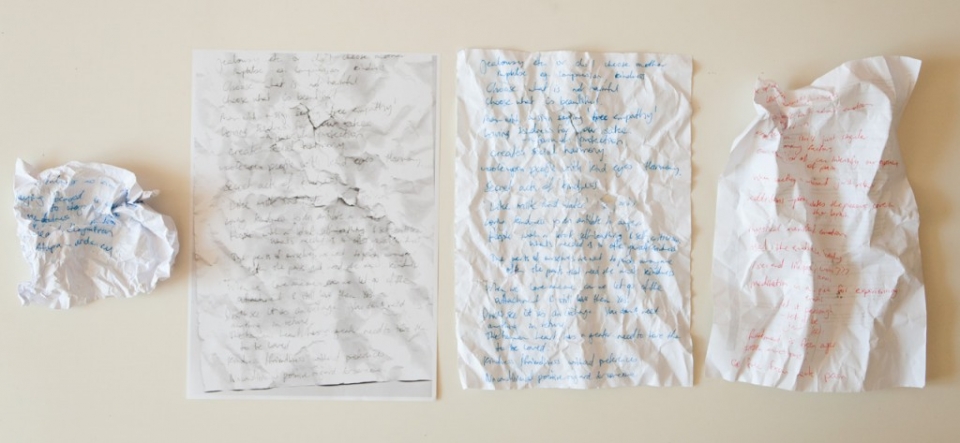 Advice for applicants
Start writing your application early.  Ask other artists, teachers and/ or gallerists for advice, especially people who have already received the grant or call the Australia Council if you have specific questions. Be realistic and professional when planning your activities – this grant is a great boost and your chance to build your arts career. Really consider the long term benefits that this year of activities could provide you with.  Consider it the same way you would a small business loan. Although you don't have to pay it back you still want to treat it as an investment for which you should see a return.
When you get the grant really go for it.  Be professional and consistent in your activities and you can really create something wonderful. The grant isn't just about spending the money you are given, the plan you write is the most valuable thing you can do for your career so really do what you say you are going to do and then some more and you will be successful. Be sure to budget properly as you don't want to get caught out with unexpected expenses coming out of your own pocket. Stay in contact with the program officer if you have any questions or need to change something.
More info on the ArtStart program can be found here